Black Gate
Technical Report No. 103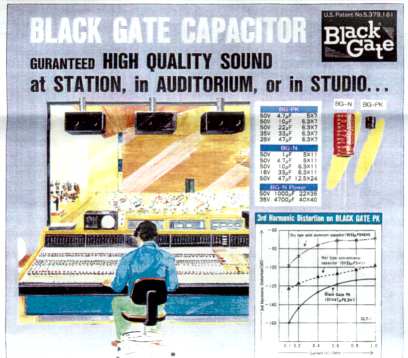 BLACK GATE CAPACITOR
GRANTED HIGH QUALITY SOUND at STATION,
in AUDITORIUM, or in STUDIO
A mixing room is the kitchen of sound, a place where you can show off your professional skills by cutting or connecting signals from a variety of sound sources and partly mix signal levels with making them up and down.
On the surface of a mixing console contains first grade switches, however, the inside of it has several amplifiers and equalizers consists of thousands of varieties of small electrolytic capacitors of poor quality; each of these capacitors generate distortion noise and damage information signals, and deteriorate tone quality.
Black Gate PK series will solve the problem because it is an optimum capacitor for signal levels of a mixer.
One piece of BG-PK reduces distortion by amazingly -20 to -40 dB(see the Figure), therefore replacing all capacitors in the whole circuits with this capacitor, the difference will be beyond belief.
Be sure to use BG-N (Non-Polarized Black Gate: The red one int the picture) for a couping circuit between zero potential because ordinary polarized ones are fatal for the performance of the circuit. A power supply needs to be replaced its capacitors with BG as well.
The BG-N Super E-Caps connection will be the best choice.
Professionals enthusiastically endorse the excellent performance of Black Gate-- makes sound brighter than original! The Black Gate capacitor has a life span five times longer then a conventional capacitor.
Try BG for ideal sound.